Join the Time Travellers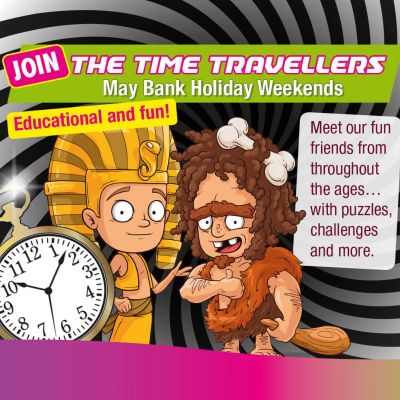 Runs 26th May - 28th May 2018
Educational and entertaining fun for the family taking place over the May bank holiday weekends on the 5th, 6th ,7th, 26th, 27th and 28th May. Step back in time with Time Travellers Professor Chronological and his assistant Meridian Nanosecond, take the challenges and solve the clues to help the professor repair his time machine before it's to late!
Whilst taking a trip to 3000 BC to watch the Great pyramid being built our Time travelling tourists have torn the fabric of time itself and have somehow ended up arriving in 2018 at The Milky Way!
The pendulum perforator circuits have over heated and now they have no way of getting back home to the year 5042. Can you help our historic heroes? Are you brave enough to travel back to the past to complete the challenges and solve the clues in each time period? Our duo need to piece their time machine back together, repair their pendulum perforator circuits and enter the coordinates to allow them to return home.
You will visit ancient Egypt, Victorian London and The Stone age in your quest - make sure you keep your wits about you as you'll meet some very interesting characters along the way. Get ready, its TIME for a new adventure!
"Just wanted to leave you guys a message to say you were all amazing today my 4 boys absolutely loved doing the puzzles - it's not easy trying to find something that can entertain all the age ranges (mine are 4 up to 12) but you smashed it" Emily Crozier. Facebook
Our 'Join the Time Travellers' events are brought to you in association with Marvellous Event-ures