A Sprinkling of Xmas Fun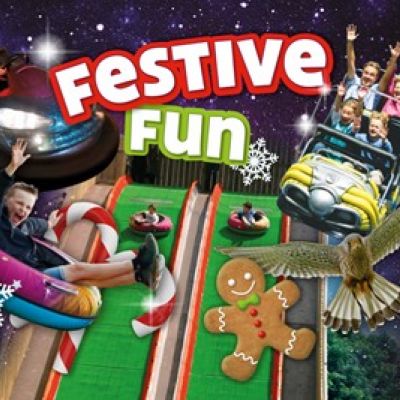 Runs From: 5th Dec 2020
Hunt the naughty elves and take a festive ride on the Milky Way train … we're providing a sprinkling of Christmas fun here at The Milky Way Adventure Park this season!
On the weekends of the 5th & 6th and 12th & 13th of December you can visit our garland festooned train station made jolly with festive music and giant Christmas tree for hot chocolate and shortbread straight from Mother Christmas' kitchen. Meet our larger-than-life Station Master who'll welcome you onto the newly adapted outdoor train with separate carriages for each family, for a quick ride round the route– and see if you can spot the elves as you chug round!
Then enjoy all the other attractions at our award-winning adventure park but keep an eye out for more hidden elves as you go. Father Xmas won't be visiting this year as he's got so much to do at The North Pole … but some of his naughty elves have made it here! He's asked us to round them up and send them back, so we need your help. Spot them getting up to their mischievous antics in some most unexpected places, jot down where you spotted them, and then let us know when you leave - each child will receive a small sweet treat for their trouble.
In addition to this little bit of festive fun there's plenty to keep the whole family safely entertained this winter, including the NEW Ninja Stars play arena, dodgems, Ziggy's Blast Quest and newly-updated Planet Play area. Younger children will particularly love the Little Stars play centre and and there's plenty for them plus older children and adults to do outdoors too including the Cosmic Typhoon and Cosmic Caterpillar rollercoaster, large bouncing pillows, maze and Gravity Rider donut slide.
ONLINE BOOKING ESSENTIAL
Due to reduced capacity in order to maintain social distancing we use an online booking system for all visits. All visitors, including those with annual /class passes and VIP tickets, will need to book online.
*Please note that dates for our Christmas themed opening are intentionally reduced and timed to take place earlier in December than normal, as we want to ensure that everyone is able to enjoy a relaxed and happy Christmas keeping everyone, including elderly relatives, safe this year.*