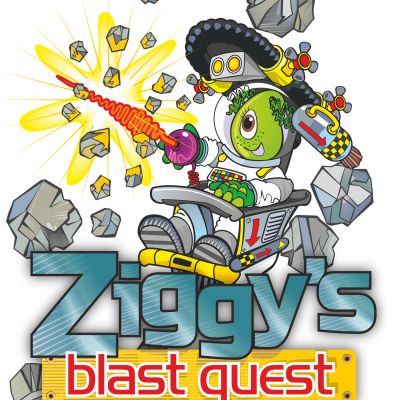 Details of our exciting new ride have finally been revealed ... it's Ziggy's Blast Quest!
This exciting new ride, which is aimed at providing fun and thrills for the whole family, is now ready to go - and will be open for all our visitors to ride on Sunday April 7. Doors open at 10am! For now, we'll be operating a 'new riders take priority' system, meaning that everyone will get at least one ride when they visit!
On entering the ride, visitors will be invitied to join Ziggy's Blast Quest to save Planet Earth.
They'll hear how the Earth's defence system has been destroyed by meteors and asteroids - which are now on a collision course with our planet! Brave volunteers are invited to join Ziggy's Blast Quest, where they'll receive training from the Blast Force team, before piloting Cyber Scooters on a mission to destroy the space rocks.
They'll then take their seats on two-person Cyber Scooters, which are powered by Cerilion Boosters and equipped with twin Blasteroid Lasers, and shoot the lasers at the asteroids and meteors before they enter Earth's atmosphere.
The mission of all Blast Force members will be to hit as many of the incoming asteroids and meteors as possible (a digital scoreboard on the front of your Cyber Scooter will tell you how well you've done), before returning to Earth Base Zero.
The new ride, the latest in an ever-growing list of new additions to our award-winning theme park, is expected to be a huge hit with visitors of all ages. It's opening during the Devon school Easter holidays, so the large number of visitors expected to visit for The Milky Way's Easter fun (including the unique Easter Bunny's Grotto and Easter Treasure Hunt, and Meet Star Wars Characters) will be able to try the new ride for themselves. They'll also get to see the facelift that the park entrance has been treated to, as well as the entire refurbishment and re-arrangement of the front foyer and shop.
"We're so excited to again be able to offer something new for our visitors - and we think they're really going to love Ziggy's Blast Quest," says The Milky Way partner Tara Stanbury.
"The amazing video featuring an animated Ziggy really gets you into the spirit before you even get on the ride, then it's great fun 'piloting' the Cyber Scooters and shooting the Blasteroid Lasers at the meteor and asteroid targets. I think people are going to get quite competitive about it, because they can see their score on the front of the Cyber Scooter.
"We're so grateful for the dedication of the core team here at The Milky Way, and the hard work of some very talented local businesses – none of whom have ever worked on a ride before! The amazing video put together by Bideford based Tide and Time films and featuring animations by Corvus Design, really gets you into the spirit before you even get on the ride. The atmosphere is fantastic throughout thanks to the theming work carried out by Winkleigh based event specialists Marvellous Event-tures, with various murals by Ilfracombe's Silk Crystal Street Art and artwork by Bideford's Corvus Design. Not forgetting Surrey based laser specialists Veqtor, who helped form the initial concept and supplied all of the targets, effects and blasteroid lasers. A huge thanks to everyone involved in making the dream a reality!
"I hope everyone who visits loves it as much as we do - and I think they will!"